I would be lying if I said I wasn't super excited to be back with
you guys in the blogging world.
I missed you guys like my hubby misses our sex life prior to having a toddler! ;)
Of Course I am beyond ecstatic to be doing this fun link-up with
Jane
for InstaTuesday....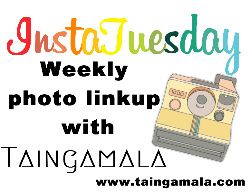 It probably comes as no surprise that my Instagram was needing some
love after my time out. But I have been a Instagram-ing fool the pass few days.
If you don't already you can follow me on Instagram @anmcgowan.
Without further delay.
Top to bottom. Left to right.
Halloween decorations.
Picking Pumpkins at the Pumpkin farm.
Yummy Chicken Taco Soup on cool nights.
Cuddling with my sweet boy.
My new hair cut and fall color.
All American Dinner. =)
Now my loves I want to see your Instagram collection.
Smile on Lovelies,
Ashley