I had so much fun doing this link-up last week
I talked my hubby into doing it again with me.
(Not so easily this time I might add)
So I may have to do this every other week so he doesn't get tired of doing it!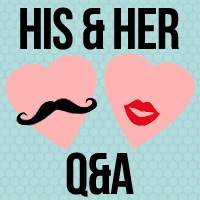 What would you be happy doing for hours on end?
His:

Riding my motorcycle.
Hers:

Antique Shopping I could do this forever! I love a good find!!!
What is one thing you always disagree on as a couple?
His:

Your dogs. (Her: They are more my dogs and they kinda get on his nerves!)
Hers:

His lack of communication with me on what plans are.
I like to plan everything out and he is a fly by the
seat of your pants type person. (Drives me Nuts!)
What is one thing you always agree on?
His:

What don't we agree on? (awwee!)
Hers:

Anything that has to do with our Son.
What is your favorite olympic event?
Alright Guys don't hold it against us but we aren't big tv people.
SO we don't really watch the Olympic's.
If you had the money to buy your significant other
any one thing right now what would you buy them?
His:
(

First Response) A Muzzle. Her: =(
(Second Response) A Mini Van.
Her: (no
t what I would have asked for. we will work on
that answer!)
Hers:

A Ford Rapture Truck.
He has wanted one forever and as hard as he works for
us I wish I could get him one!
Would you rather be blind or deaf?
Hers:

I would say Deaf too. I couldn't imagine not
being able to see everything
What is one thing you admire about your mother (or mother figure)?
His:

She has a good heart.
Hers:

Her will. She is so strong willed and I admire that about her.
Who is your favorite superhero?
Hers:

Cat Woman. Any woman who can look that good
in skin tight leather is my hero!
What value or principle, if any, are you a true advocate for?
His:

"God is Great, Beer is Good and People are Crazy!"
Hers:

Honesty and Loyalty. I can't stand liars!
Oh I love my hubby's answer too! =)
YOUR TURN!!!
#1. Grab this button and put it in a new post.
#2. Tell everyone the link-up is hosted by We and Serendipity and Love the Grows and link back to us! (We want people to see the origination and past Q&As.)
#3. Copy and paste these questions. Delete my answers because you're an individual.
#4. Have fun answering these questions with your man!
#5. Once you've published your post, click the Linky button above and link up your post here so other peeps can see it!!
#6. Read everyone elses answers that have linked up!
#7. Come back next Sunday and do it all over again!
Alright Friends now get to asking your man these questions
and post so I can see what you guys have to say!
Have a wonderful Sunday Loves.